10 Easy Watercolor Ideas (Beginner Friendly Tutorials)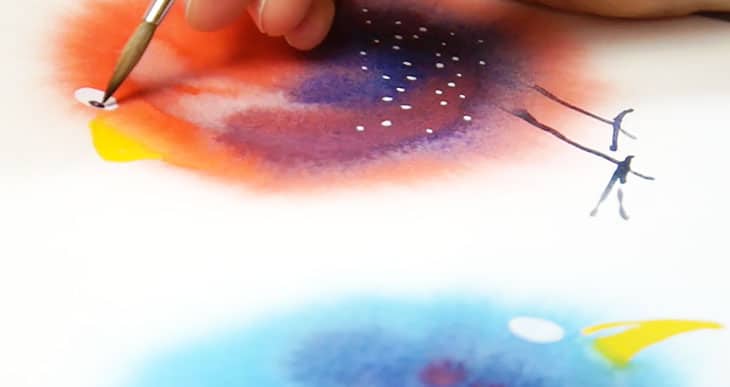 It's not always easy to come up with new and unique ideas for painting.
Getting started is sometimes one of the most difficult parts of watercolor, especially when you're a beginner. Blank page syndrome can easily put artists off!
So if you just want to paint without having to think too much about the subject, and how to paint it, I've put together this list of easy watercolor ideas for you to try out.
Any novice painter can paint the following suggestions, and if you follow the links, you'll find step by step instructions for each one of them.
Don't worry about the results and just have fun with the paint!
Ready?
Simple Watercolor Ideas
Some of the subjects below are slightly trickier than others. To keep things simple, when choosing a new idea you want to paint, consider the following tips…
What are the best things to paint in watercolor
Motivation is important for making progress. So one of the best rules for deciding what to paint in watercolor is:
" Don't try to paint subjects that are too difficult " !
For example, if I asked you to paint the image below, without any guidance: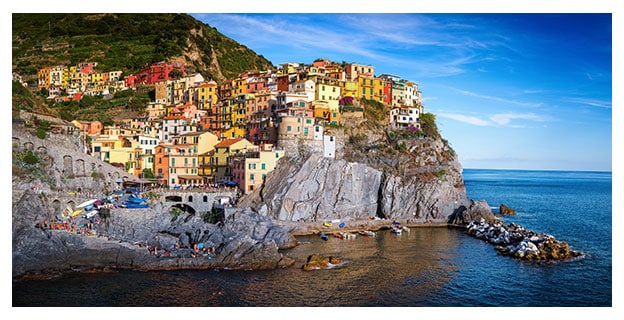 Well… that would probably just be cruel.
Whatever your level of skill with watercolor, you should aim for something simple, but which challenges your skillsjust enough to keep you learning.
A little bit of practice everyday over a long period of time will build your skills much better than trying to accomplish something difficult in one go.
Watercolor do's and don'ts
If you're not familiar with the way watercolor paint works, you can easily get frustrated by the strange behavior of watercolors.
There are some basic characteristics of working with watercolors which, if you know them, can help improve your results.
Don't paint onto a damp wash of color. If you add a wet brush mark to a watercolor wash which has started to dry, you will get unexpected blotches. These are known as "blooms" or "backruns".
Do try to work quickly. Watercolors paint dries pretty fast, so if you don't finish the shape you're painting in time, you can end up with visible brush marks rather than a smooth wash.
Do work from light to dark. It's easier to add stronger colors progressively with watercolor, than to add lighter colors at the end of a painting. Start with light colors and build up the intensity a bit at a time.
Do control the dampness of your brush. If you load your brush with lots of paint, it becomes difficult to paint fine details, because as soon as the tip touches the paper, it tries to release a lot of wet paint onto the surface. A loaded brush is good for painting big washes of color, but for smaller shapes, bloat your brush first on a cloth to remove some of the moisture.
These tips provide a few ways to help control this medium better. Notice that they all concern the way that water flows. Keep an eye on your painting process and try to observe the way the wet paint wants to move (or not). Observation can go a long way to help the learning process.
With these things in mind, here are some simple watercolor ideas to get you started.
​Note: All of the painting suggestions and ideas below include a link to the full ​tutorial. You'll find a complete step by step guide, ​plus templates and worksheets you can download to help make the paintings easier.
1. Easy Way to Paint Watercolor Oranges
​This pattern of orange slices is good for learning brush control and ​mixing bright colors!
2. How to Paint a Watercolor Pear
​This still life of a pear might look tricky but you'll learn a lot about shadows, shading and using a glazing technique.
3. Super Easy Fuzzy Birds
​These are a lot of fun and you'​ll learn about wet-on-wet watercolor techniques. ​Great looking results guaranteed !
4. Watercolor Fall Leaf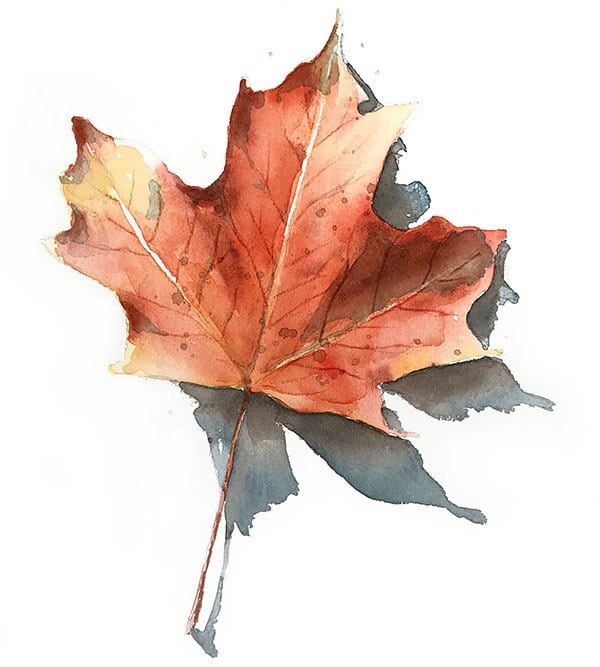 ​In this tutorial I'll show you an easy way to paint a realistic looking watercolor fall leaf.
5. Abstract Lines and Drips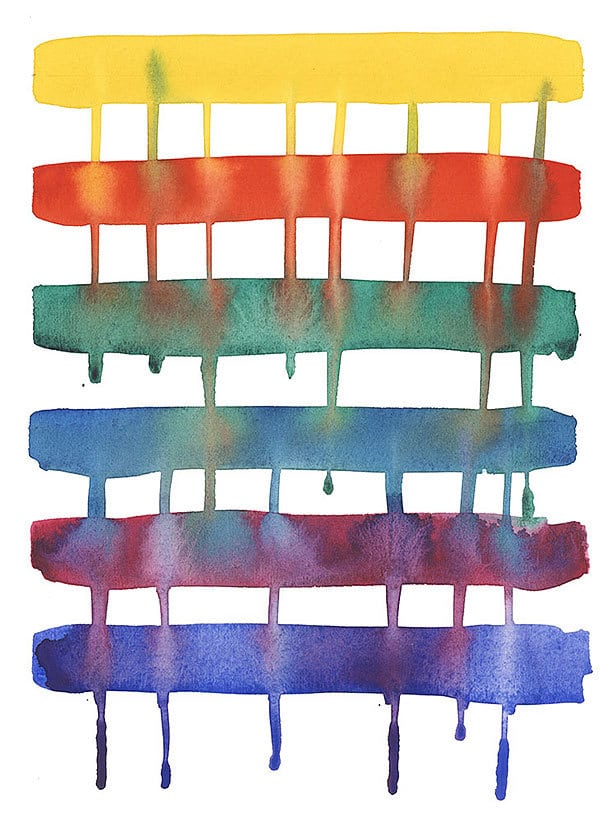 ​A very ​colorful and fun exercise. It teaches you about how colors blend on the paper and how to work quickly while the paint is still wet!
6. Watercolor Mountain Landscape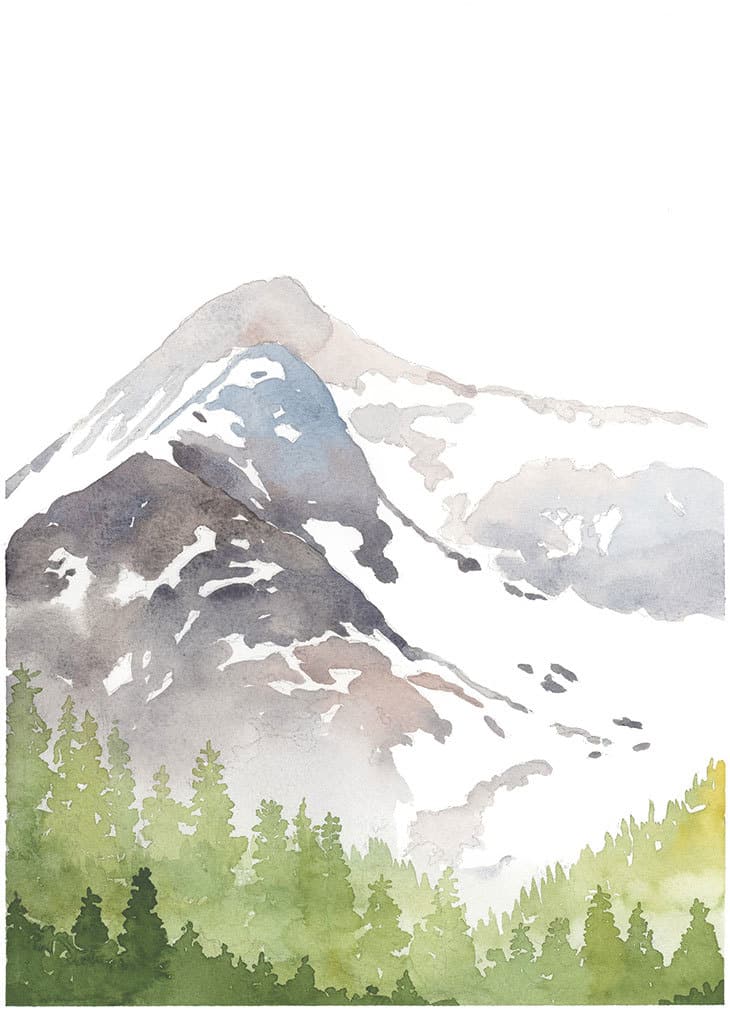 This simple landscape will teach you about creating depth in watercolor paintings and water-to-paint ratios.
7. Koi Fish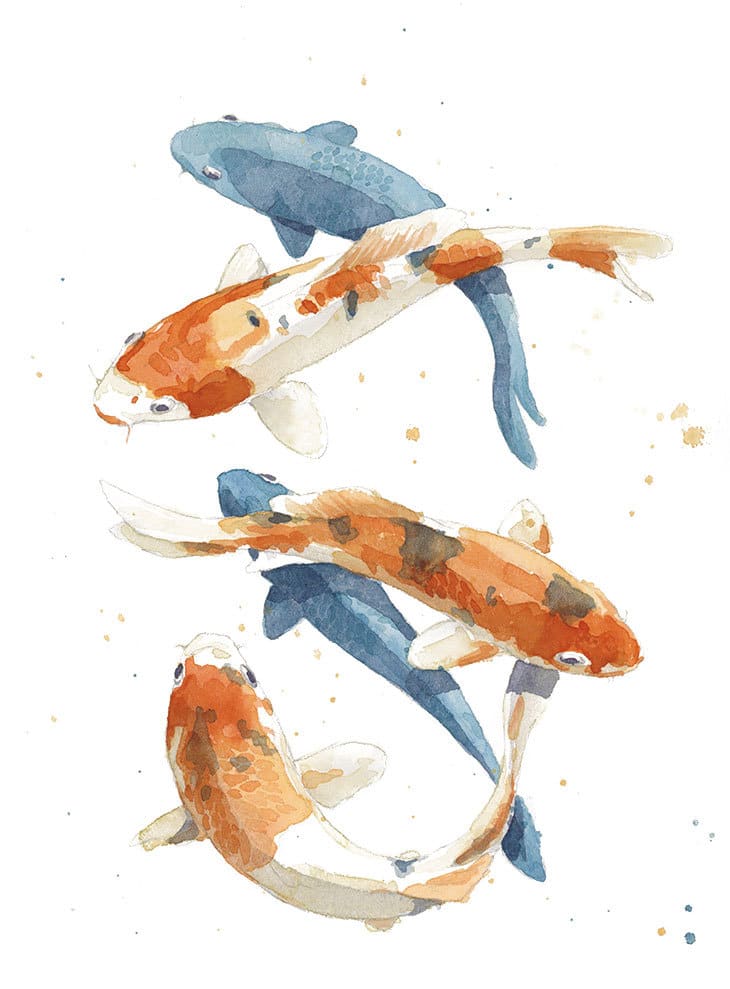 ​This Koi fish painting is ​a very popular subject. ​And you'll learn a lot about using glazing and wet-on-dry techniques.
8. Easy Leaves and Brush Marks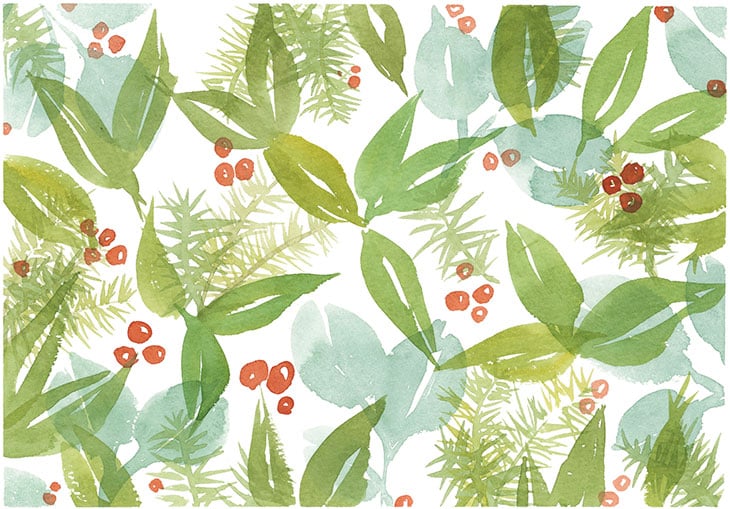 ​Learn how to paint beautiful leafy patterns using simple brush strokes and by layering colors.
9. Watercolor Daisies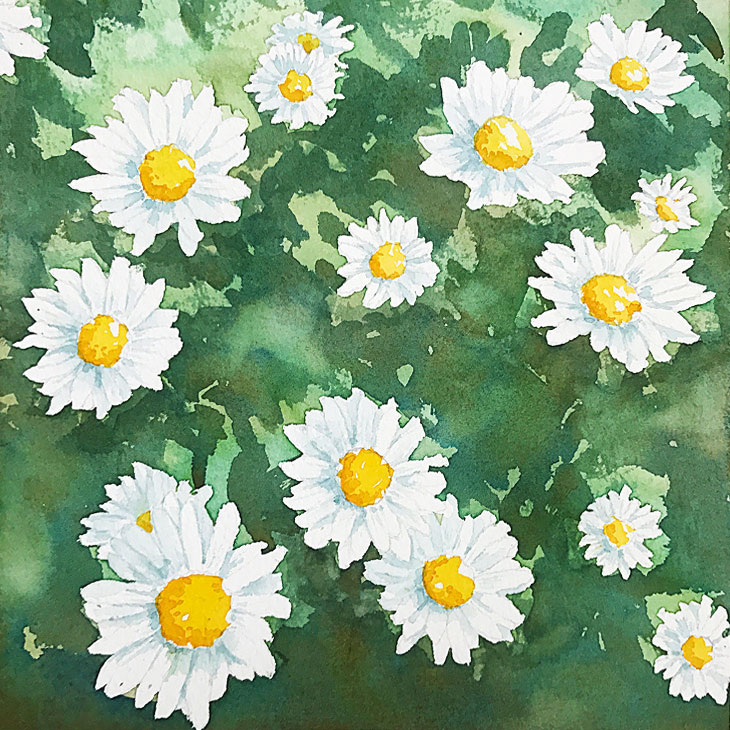 ​In this tutorial you'll use a multitude of easy techniques to produce a great looking flower composition.
10. Simple Watercolor Feather
​This feather painting tutorial is a ​great way to practice both wet-on-wet and wet-on-dry techniques.