Watercolor Supplies Beginners Guide (This is What you Truly Need)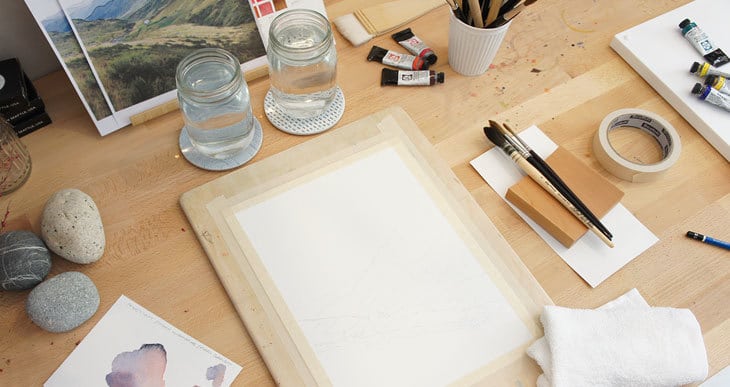 I know what you're thinking… And you're probably right.
I'm a sucker when it comes to buying watercolor supplies !
I'm sure I've got far too much stuff. Which is why I'm perhaps in a good position to tell you just what you need, and what you don't…
When you get started with watercolors it's easy to become confused by the vast choice of painting materials. Making bad choices in the beginning can have a negative effect on your painting experience. So much so, that you might give up out of frustration. You might even become convinced that you lack ability when in fact your poor results are a result of the inadequate materials you've chosen.
I don't want that happening to you!
Poor quality watercolor supplies simply don't handle the same way as equipment designed for regular artists. And I don't say this to trick you into thinking you have to buy the most expensive painting supplies. In fact, if you choose wisely then you don't have to spend a fortune, and you'll get better value for money.
Watercolor Painting Supplies for Beginners (… and Everyone Else ! )
Just because you're new to watercolors doesn't mean you have to stand for second best.
What do I mean by this ?
Well… I see a lot of "beginners" supply lists recommending "student" grade materials for artists who are getting started in this medium. These are cheaper alternatives to "artist" grade materials.
(It's true I sometimes do this myself. But I do try to explain that certain kinds of brushes, paints and paper are a compromise and you won't get the same results and handling experience).
I have nothing against saving money on artist's equipment, but you have to realize that these things are cheaper for a reason.
In this article I'll explain exactly what to look for when buying your supplies. And I'll also explain what other essential equipment you'll need to enjoy your watercolor painting experience to the full.
If you get your choices right at the beginning then you'll really be able to appreciate the amazing, unique qualities of watercolors. And getting good results and making progress is an excellent way to stay motivated, keep painting, and get real value from your supplies.
This list is the result of many long hours of painting and experimenting. It turned into a bit of a mammoth long article. So if you're particularly interested in one specific piece of equipment then the table on contents below will take you directly to the section you're looking for 🙂
What Supplies do I need for Watercolor Painting?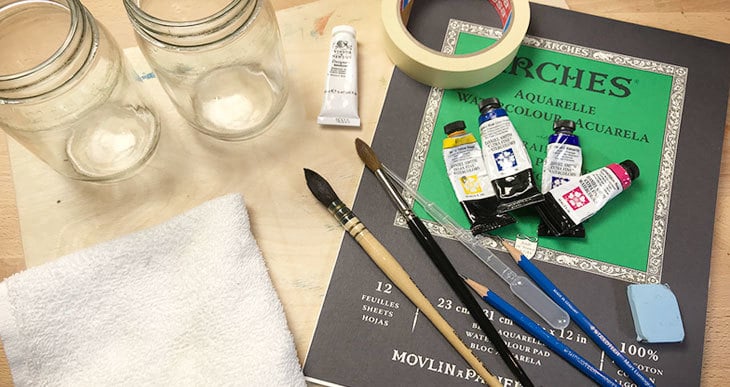 There are a multitude of questions that go through your mind when you make the decision to try watercolors. And of course, getting set up correctly is part of the basics. The best way to help you with this is to answer some of the most common questions related to the gear you need to be able practice watercolors properly.
So what supplies do you need for watercolor painting?
Of course, the fundamentals are paint, paper, and brushes. All of these are available in a wide range of qualities and prices. Beyond that you also need a few other bits of equipment for happy painting.
For me, the minimum list of supplies is as follows:
Paint
Paper
Brushes
A palette (for mixing and/or storing paints)
Water jars
A flat board
Masking tape & masking fluid
Cloth or absorbent paper towels
Let's have a look at each of these in detail and I'll give you my recommendations on the best alternatives for each.
Best Watercolor Paints to get Started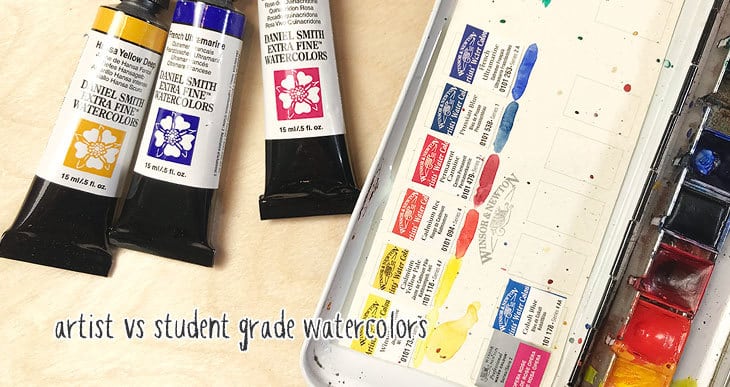 Why purchase cheaper lower quality paint which you'll end up abandoning in favor of artist quality paints as your skills progress. To me it seems like a false economy, especially since a few tubes of watercolor paint can last for months or even years.
Also, If you're not sure you'll enjoy watercolors you only need a small amount of paint. Why buy big tubes of student grade paint when you can get a kit of small artist grade paints for the same price and get the full quality experience of watercolors.
I say this because student grade paints may be cheaper, but they also have a lower pigment load than artist grade paints. This means the final appearance will be less vibrant than what can be achieved with artist grade watercolors.
For this reason I recommend you start out with a small selection of artist quality paints, which I'll talk about below.
How many colors do you need for watercolor?
In my opinion you only need a few paints to be able to mix a wide range of different colors. For me the basis of any watercolor palette is a warm and cool version of each primary color. These will allow you to mix a good range of colors including bright saturated hues and neutral darker tints as necessary.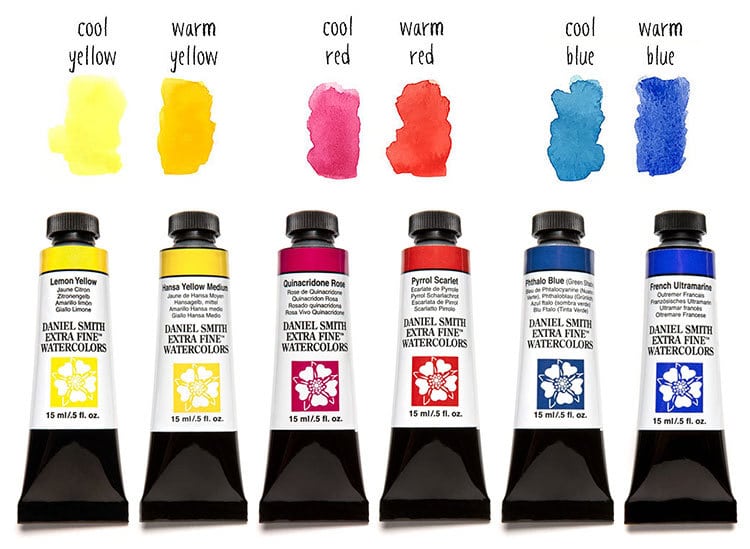 Why warm and cool primaries? The color appearance of paints is dictated by the pigments used in their ingredients. These can be classified into "warm" (the pigments have a touch of red, orange or yellow) or "cool" (they tend towards greens, blues and violets). Depending on whether you mix warm or cool colors together you get different results!
Having both warm and cool primaries provides a wider range of mixing possibilities.
My own preferred brand of watercolors is Daniel Smith and my personal preferences for warm and cool primary paints includes:
Hansa Yellow Deep – Pigment number: PY65
Lemon yellow – Pigment number: PY175
Phthalo blue GS – Pigment number: PB15:3
French ultramarine – Pigment number: PB29
Quinacridone rose – Pigment number: PV19
Pyrrol scarlet – Pigment number: PR255
If you're interested, you can get a more in-depth look at different watercolor brands here.
Tips & Tricks: Paint names vary from one brand to another but pigment numbers are universal. Like this you can use the pigment numbers to find equivalent paint colors by other manufacturers if you prefer.
Here's an example of the range of colors you can produce with just these six paints, and this is just a small example of what you can achieve: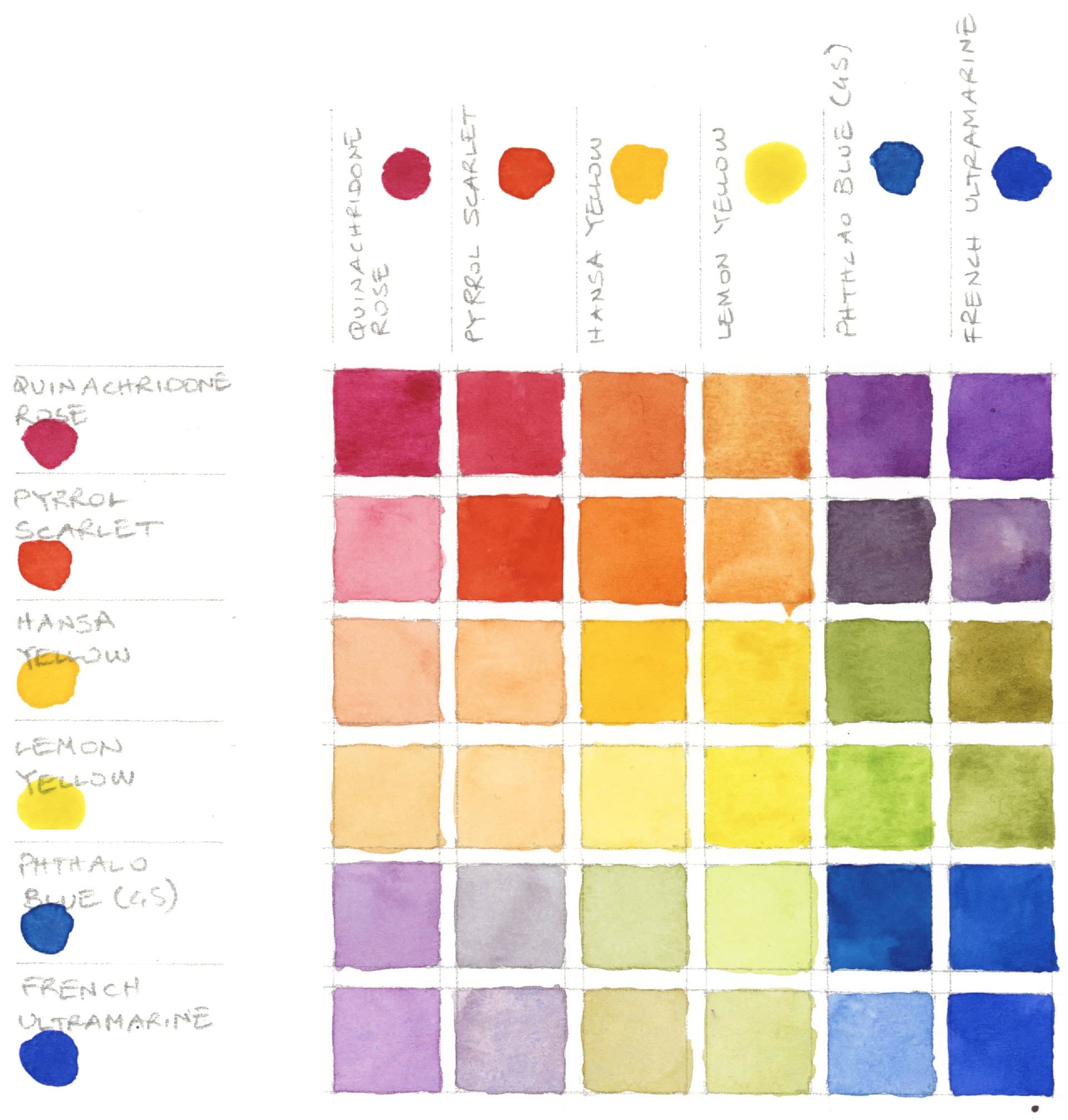 You can buy each of these individually but you'll get a better deal if you buy a set of small tubeslike this extra fine watercolor essentials collection.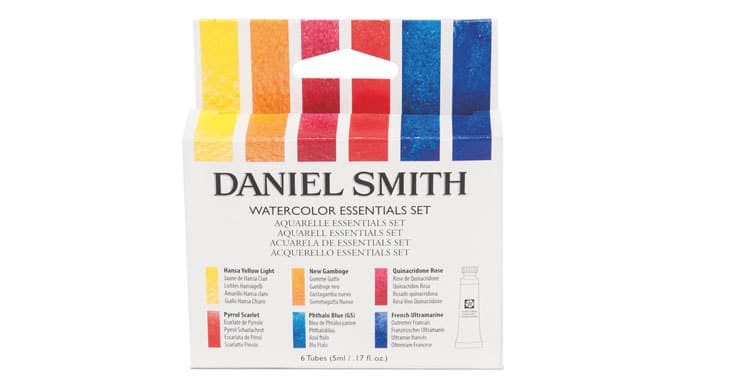 I think this is an excellent way to get started with artist quality watercolors at an affordable price.
As you become more practiced you'll probably need a few more colors than this. Read the following for a complete guide to paints.
What about black and white watercolor paint?
Note that you don't need black and you don't want to use white watercolor either. Black can be mixed using other colors, and the color white comes from the paper itself (you just don't paint the paper in the places you want to see white).
Admittedly, sometimes you need to add some white highlights back into a piece of artwork. But you don't use white watercolor for this. The best solution is white gouache like this:Winsor & Newton Designers Gouache – Permanent White
Unlike watercolor, gouache is opaque and will hide the underlying color so you can add white back to a watercolor painting.
Beginners Watercolor Brushes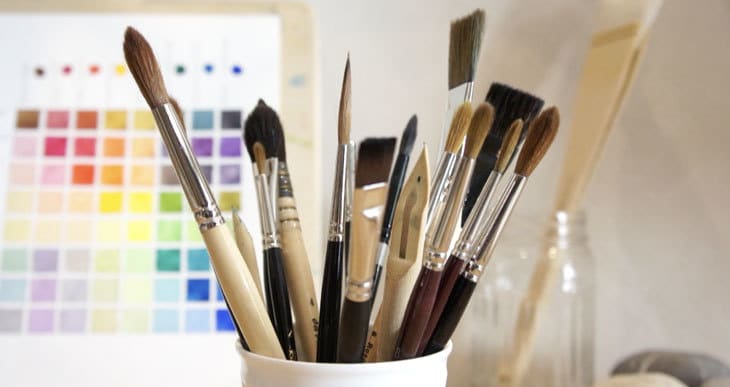 Brushes are an extension of your hand. They help translate your intentions onto paper. As such they are one of the most important parts of your painting equipment.
I've lost count of how many brushes I've purchased over the years, but you only really need two or three brushes to get started. You can always expand your collection later.
Do you need special brushes for watercolor?
When you paint with watercolors you wouldn't use the same brushes as an oil painter or acrylic artist.
The brushes used in watercolor painting have been specially designed to handle properly with this medium. To get the most out of watercolors you need to choose wisely.
Not all watercolor brushes are made equal so you still need to know what to look out for.
What type of brush is best for watercolor?
It's commonly accepted that the best kind of brush for watercolor painting uses natural hair.
Sable is very much appreciated for its ability to hold water and the springiness of the hairs (this helps to form a good tip). Squirrel hair has also been used by watercolor artists for generations because of its huge water holding capacity.
Brushes for watercolor are generally available in three main types of hair:
Natural Hair
Synthetic fibers
Blended hairs (a mixture of natural and synthetic)
Personally I wouldn't recommend using synthetic fibers. Of all the alternatives these have the lowest water holding ability. I prefer natural hair or a blended mix which provides a good compromise at a cheaper price.
How many watercolor brushes do I need?
You can easily do any type of watercolor painting techniques with a minimum of three brushes. A large round brush, a wash brush, and a small round brush.
If you were to start with just one brush I would recommend you get a large round brush made of sable or some kind of synthetic mixture designed to simulate the characteristics of sable.
I have a particular fondness for this brush by Rosemary & Co.
Kolinsky Sable series 22 size 8 (short handle)

You could easily do the majority of your painting with a brush like this. It's a perfect size (not too big or too small), it forms a good tip and has a good "spring" (in other words it goes back to its original form).
A cheaper alternative which uses a blend of sable and synthetic is this designer brush, also by Rosemary & Co:
Rosemary & Co Sable Blend Series 402 – Size 12 (short handle)

The next most important kind of brush is a "wash" brush. This is used for painting big areas of color, such as when painting skies or backgrounds. Wash brushes include:
Flat brushes (the wide flat edge lets you cover a lot of surface with each brush stroke)
Mop brushes (these bushes have a big head and a large water holding capacity).
One of my favorite wash brushes is this squirrel hair mop by Da Vinci:
Da Vinci Blue Squirrel mop series 418 size 4

Squirrel hair is not as "springy" as sable, so the brush head deforms slightly when you paint but it holds a ton of water and handles beautifully. A lot of artists who prefer a loose style of painting only use squirrel hair.
You could also go with a less expensive synthetic alternative such as this:
Raphaël Soft Aqua series 805 size 4
They have a nice precise tapered point and are not too long which I think helps with brush control.
Some people like to paint a lot of detail and a large round brush might feel limited and too big for this kind of work. So a small round brush is always useful to have. recently I've been using Kolinsky sable brushes like this:
Rosemary & Co Kolinsky Sable pointed round Series 8 size 4 (short handle)

Watercolor Paper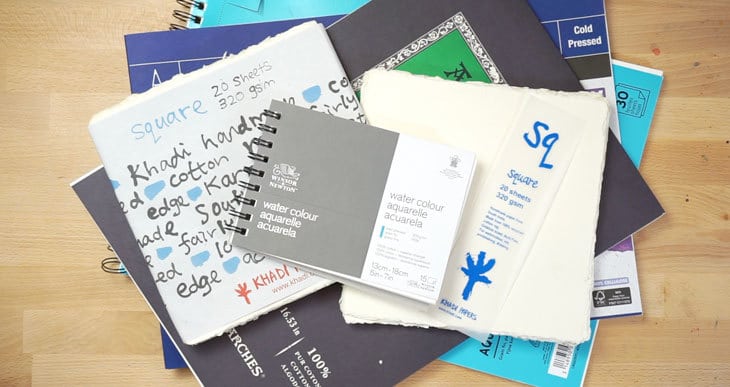 Choosing watercolor paper is a bit of a dilemma.
You only get the best results from artist quality paper. But good quality paper is expensive! Student grade paper simply doesn't handle the same way with watercolor paints, making it more of a struggle to control your painting process.
Student grade paper simply won't show you all the beautiful characteristics of watercolors…
Sorry !
What paper is best for watercolor?
It's important to know what to look for so you can make an informed choice.
The best type of watercolor paper is 100% cotton, pH neutral and acid free.
Neutral, acid free paper is known as "archival quality" because it won't affect the paint and doesn't fade over time. Cotton is naturally white so it doesn't need any chemical treatment. Cotton is also naturally absorbent, softer, and stronger than wood-based paper.
One of the best artist quality papers, and the one that I use the most is the brand Arches
Arches 100% cotton / cold press / 140 lb : 300 gsm (Small pad)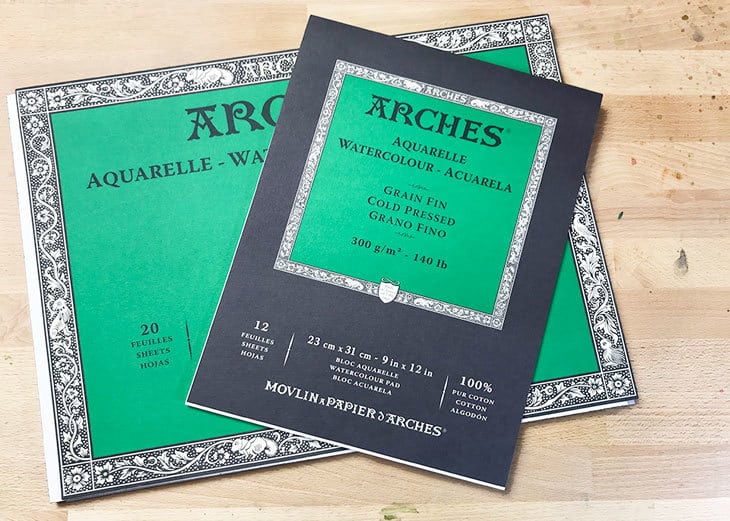 The surface finish on this paper (known as cold-press) has a slight texture to it. You can also get smooth paper (called hot-press) or rough textured (called… err.. "rough"!). Cold press is the most popular finish among watercolor artists. The thickness of the paper is expressed by weight (pounds or grams per square meter). 140 lb is thick enough for most uses with little or no warping when wet.
Other types of finish exist such as hot-press paper which you can read more about here.
I think you need to experience both high quality and student quality paper to know the capabilities of each. Like that you will understand the way the paint behaves is a result of the material you're using and not a reflection of your skills.
Cotton paper is usually the best choice for the best painting experience, but watercolor papers are also available as a mixture of cotton and wood fibers or wood-based only.
For example, an interesting compromise is watercolor paper made from 50% cotton and 50% wood cellulose. They are slightly cheaper and they represent some of the advantages of 100% cotton with less of the problems of 0% wood-only papers. The brand Paul Rubens make a good value paper like this:
Paul Rubens watercolor block 50% cotton rag(links to Amazon)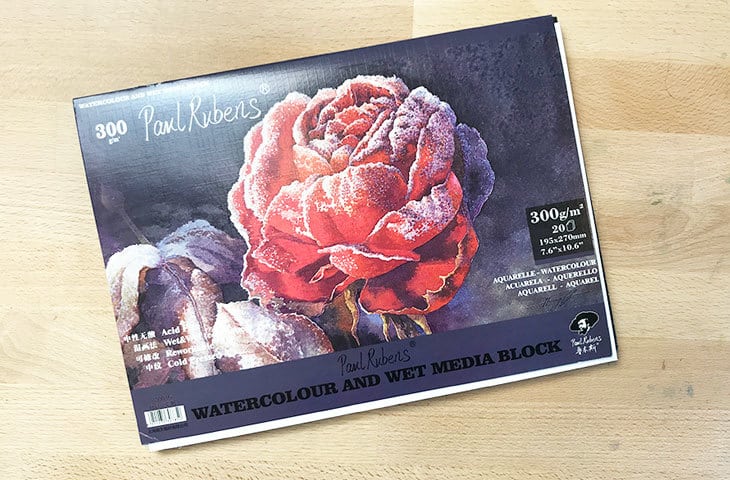 Watercolors are a lot of fun and you can easily use up paper doing sketches and experiments. For this kind of use I recommend you use lower quality paper.
Using low quality paper is more of a challenge, but you simply have to accept the shortcomings of student grade paper, and above all remember that you can probably achieve better results when you use artist grade.
Canson XL is a student grade paper which I use frequently. It has a good thickness for water-based uses and handles pretty well. For better value I buy bigger pads and cut down the sheets to a smaller size:
Canson XL watercolor pad 140 lb / 300 gsm
One last recommendation for those of you looking for cheap 100% cotton paper. Arteza is a Florida based company who aims to offer affordable art supplies to budding artists.
They have a great deal for a double pack of watercolor pads.
I've tested this paper and it performs quite well. Wet-on-wet dispersion is good and you can blend smoothly. But paint lifts too easily when re-wetting colored washes which can make glazing and layering paint tricky. Also the texture of the paper is a bit flat for my liking.
After testing I would consider this a decent student quality paper for watercolor artists:
Arteza 100% cotton 140 lb 300gsm Expert watercolor pad(link to Amazon)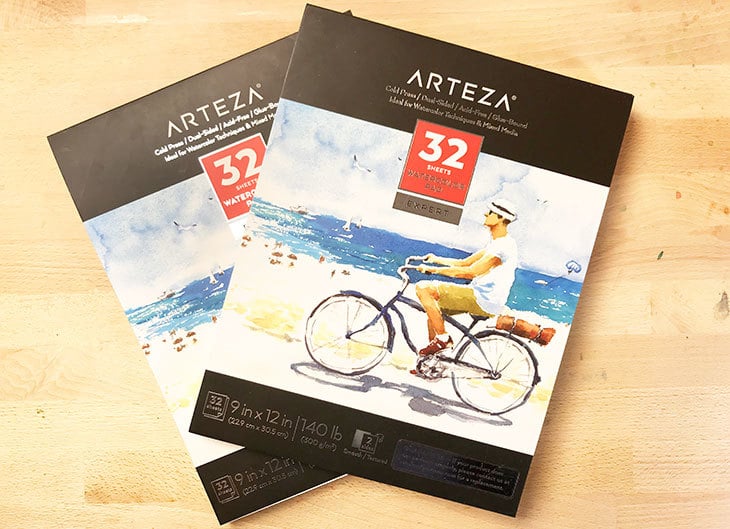 Watercolor Palettes
There are a few different types of palettes used by watercolorists, and again the variety of choice can be pretty confusing. I would categorize palettes into a few different types:
Studio paint palettes
Portable paint palettes
Mixing palettes
Let me explain.
A studio paint palette is the kind of thing you use exclusively indoors. It would contain a number of empty wells for squeezing out paint plus a surface for mixing colors. They can range in size.
A portable paint palette takes the form of a metal or plastic box with a folding lid. It's small and compact enough for traveling, painting outdoors, or studio painting. You can fill the box with "pans" of ready-made paint or squeeze paint from a tube into empty pans to customize your choice of colors.
A mixing palette is used purely for mixing up paints and has no wells for storing paint colors.
How do I choose a watercolor palette?
A good palette should have a bright white surface to help you clearly see the colors that you're mixing. The size of the paint wells should also fit the size of brush you use the most. Bigger wells are more comfortable for picking up paint with a large brush.
The material should also be resistant and easy to clean.
Also, think about how you're going to use your palette. Do you have a fixed place to paint indoors where you can leave your equipment and come back to paint when you like?
I work mostly indoors in my studio. My absolute favorite palette is the John Pike palette(named after a well known artist from the 1960's). I love it for several reasons. It has a big mixing surface for mixing colors. The wells are big enough to take a large brush without getting color contamination from one well to another. And it has a lid which protects the paints from dust while not in use.
Original John Pike 20 well watercolor palette
Are you going to be moving around a lot to do your painting? Whether you like to paint outdoors on the move or you just need to pack away your paints neatly, a folding box palette would suit you well.
I use one like this for traveling and occasional plein air painting.
I like to start with an empty palette and fill it with my own choice of paint. The advantage of this type of palette is that it can hold either full pans or half pans. Beware – some types only take half pans.
Some palettes lack room for mixing colors so artists use an additional mixing palette simply to have more room. A couple of extra mixing palettes I like to use include porcelain palettes like this and enameled butchers trays. The advantage of both porcelain and enamel is that they are both stain resistant, unlike plastic alternatives.
But keep in mind you can also just use a plate ! (if you do, try to use a white porcelain plate – ceramic tends to stain. Also you should reserve the plate only for watercolors to avoid any potential paint toxicity problems)
Other Must Have Watercolor Supplies
There's a whole bunch of other equipment you can find for painting, but among the most important for watercolor artists is the following. These are the things I have started to use on a regular basis because they are the best adapted to the painting process with watercolors.
A flat board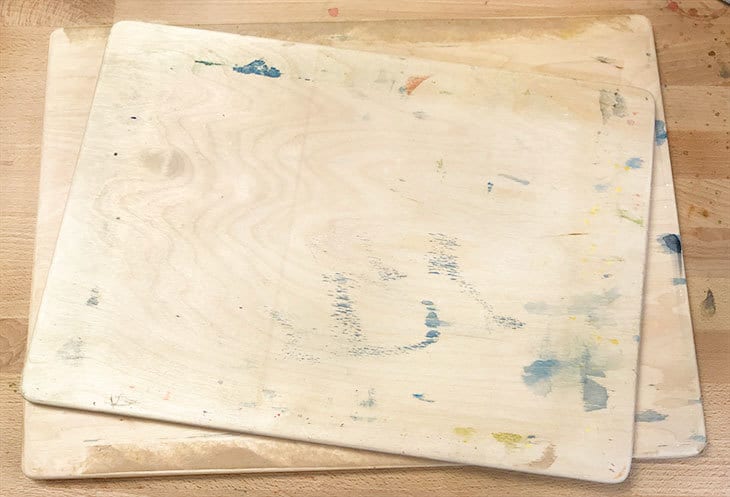 A drawing board (get a simple wooden board like this)
I hardly ever do a watercolor without fixing down the paper onto a flat board. This has multiple advantages including helping to keep the paper flat, allowing you to tilt the board when working with wet paint, and being able to rotate the sheet to make brush work easier in difficult positions.
I use wooden boards without any kind of surface treatment. They will stain, but frankly that doesn't matter. I've tried boards with varnishes before and they can react badly when you do a lot of wet-on-wet painting (one time, the varnish stuck to the underside of the paper!)
Some masking tape
Masking tape (this type is my preferred choice)
To fix your sheets onto the board you will of course need some masking tape. I use tape which is at least 1 inch thick so you have enough width to overlap the paper and get a good fix onto the board. Look for products labeled "drafting" or "masking" tape rather than "artist" tape. Artist tape tends to be low tack, which unfortunately I find isn't sticky enough for watercolor painting because it lifts up when it gets too wet. Masking tape on the other hand is more adhesive and it peels off easily without a trace.
Gummed tape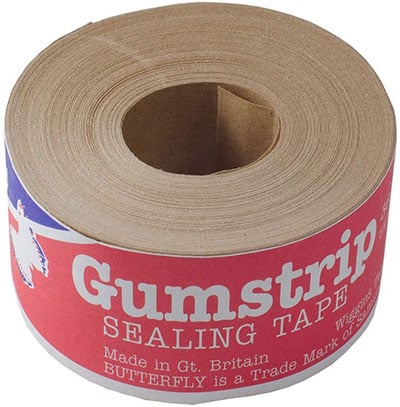 Get some gummed tape (for stretching paper)
While we're on the subject of tape, the "gummed" variety is used by watercolor artists to help fix down paper during the stretching process. This stuff reminds me of the envelopes you have to lick to get them to stick ! Yuk !
Mason Jars
Mason jars (16oz glass jars like this are the perfect size)
You need something big to hold a decent amount of water for mixing colors and rinsing brushes. I find mason jars are the perfect size. Also glass is an inert material which stains less over time.
The trick is to use two jars when painting. One is for rinsing and the other is to have a supply of clean water for making fresh mixtures and adding clear water to paper when needed (wet-on-wet techniques).
Liquid masking fluid
Liquid frisket or masking fluid (get a colored version like this one)
At some point when you paint with watercolors you'll find you need some kind of liquid masking. Most of the time the color white comes from the underlying paper. But there are many occasions when it becomes impractical to paint around small white shapes. It can make you lose time and potentially ruin a painting. I like to use liquid frisket which has an added color so you can see it more easily when you apply.
There are a number of different ways to make use of masking fluid – this article should help
White gouache
White gouache (I like Winsor & Newton permanent white)
Sometimes you forget to leave a highlight in a painting or you have a lot of white details to add back to a finished watercolor. I always have a tube of artists white gouache handy for this kind of thing. Gouache paint is also water based but it's opaque so you can cover up the underlying color.
Pipettes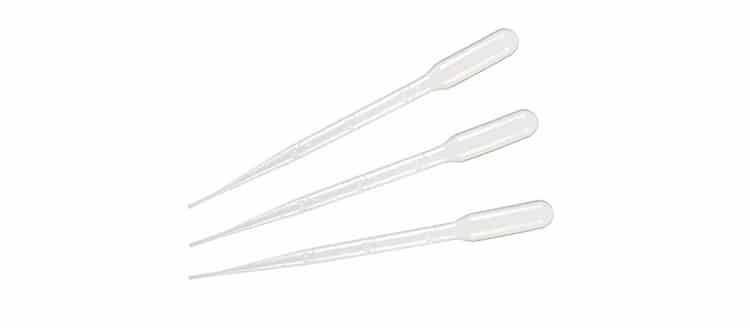 Very cheap and very practical, I use pipettes like this every time I paint to transfer clear water from the jar to the mixing palette. I use them to add a few drops of water to the wells of dry paint so that the colors reactivate. I also use them to add a big puddle of water to the mixing surface when I need to mix up a good amount of color.
A spray bottle
Spray bottle (or "spritzer" if you prefer)
Some people use these to re-wet their paints but I mostly use this to add droplets of water to damp colored washes for creating interesting texture effects in paintings. Some artists also like to use these to pre-wet large areas of paper for wet-on-wet techniques or for wetting sheets for stretching.
A few pencils

Pencils (this is my preferred brand)
Be careful not to use pencils which are too hard on watercolor paper because they can leave indentations in the surface after you erase them. The hardest pencil I use is a HB, and on watercolor paper I tend to use nothing softer than 2B. I do use much softer pencils as well when sketching and doing value studies. Staedtler Lumograph is one of my favorite brands…
A kneaded eraser

Get a kneaded eraser (you'll wonder why you never tried them)
I wonder who invented these things. I think they're great ! A kneaded eraser is a bit like a lump of putty which you can mold into any shape you like for erasing. On top of that they do not leave any residue on the surface of the paper, unlike traditional erasers !
A watercolor sketchbook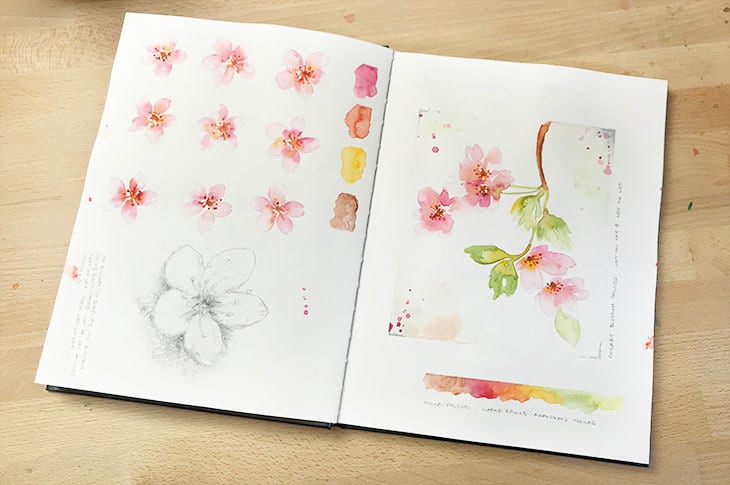 Sketchbook (get one like this which can handle wet media)
Sketchbooks are a good habit to start. I find they help you to practice regularly without the fear of doing a "finished" piece of art. I like the Stillman & Birn beta series. The paper is bright white and has a smooth finish which is good for both pencil sketching and watercolor painting. And the paper is thick enough to handle the wetness without much warping.
Absorbent cloths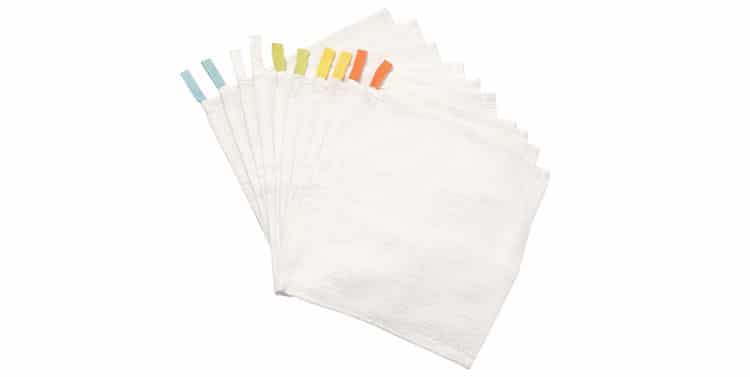 An absorbent cloth of some kind is another essential bit of kit. You use these to blot your brush to help vary the wetness of your brush strokes (an important part of controlling watercolor painting). Some watercolor artists use sponges, but I prefer to use a washcloth that I can hold in one hand, ready for blotting. I buy them in bulk !
An LED drawing light box
Light Box (a tool like this is the easiest way to trace)
I find a light box is the simplest, quickest, and cleanest way to trace drawings onto watercolor paper. And with the growth of LED technology these are cheap, and they don't get hot (before these things existed I remember sweating over light boxes filled with hot bulbs ! ).
How to Store Watercolor Supplies
Storing watercolors and all your artistic bits and bobs is fairly straightforward, but there are a few tips I'd like to share…
Never store your watercolor brushes upright after cleaning. The problem is, water can run down into the ferrule (the part that fixes the hairs to the handle), and over time this can cause the hairs to loosen.
Whatever kind of palette you choose, make sure you can cover them up when not in use. Ideally the palette should have a lid. This avoids getting dust on your paints (dust and debris in your paint is not nice at all!) If your pans or wells of paint are wet then that's fine… They will eventually dry and can be reactivated each time you come back to paint.
Make sure the caps on your tubes of paint are properly screwed on and if possible free of paint. The dried paint can make it difficult to reopen and in some cases it might even shear the top off the tube, or you'll have to cut open the tube because it won't unscrew.
Where to find Watercolor Supplies Online
I've experimented with different online stores, each time trying to find the best range of choice and good value for money. Here are the online stores I regularly come back to:
Dick Blick Art Supplies

A great place to source supplies especially if you're in the US. They have very competitive prices and often offer free e-coupons, or promotions such as free shipping when you spend a certain amount. And their range of products is vast.
Click here to shop at Blick Art Materials
Jackson's Art Supplies
Also pretty competitive and they have a wonderful range of art supplies. Very good if you're in the UK. Also, thanks to my affiliation with Jackson's, if you use this link then you'll get a 10% discount on your very first order.
Click here to shop at Jackson's
Amazon
This is regularly the place I visit when I have trouble finding certain items but also to compare prices. You can sometimes get a better deal than the specialist art stores.
Click here to shop for watercolor paints at Amazon
Rosemary & Co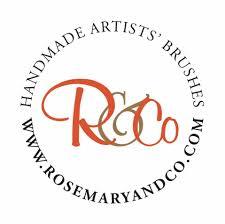 I buy the majority of my brushes from Rosemary's. They've been producing handmade brushes for decades and I find they provide excellent quality at very reasonable prices.
Click here to see Rosemary & Co's range of brushes
Which are the Best Watercolor Supplies?
The best watercolor supplies are the ones that do their job properly and serve you well for a long time. After years of experience painting I believe you can't go wrong with the material listed above.
When choosing, keep it simple, and choose the best quality items you can afford. I believe you'll get more fulfillment from a small handful of good quality paints and some decent paper.
You can always build up your collection over time !
What are your favorite watercolor supplies ? Let me know in the comments below…