Watercolor Paper Sizes (Everything You Need To Know!)
Yes, I know…
It can be pretty confusing!
It's easy to get lost in all the different formats and sizes of paper for painting with watercolors. It's enough to make your head spin!
So below, I'll go over what options are available and answer some of the most common questions about the sizes of watercolor paper you can find on the market…
What are the different sizes of watercolor paper?
The US and Europe have different paper size standards. They also use different measurements – imperial (inches) and metric (cm). So depending on your location, the most common paper sizes you'll come across are as follows:
7 x 10 inches
9 x 12 inches (known as ARCH A size)
10 x 14 inches
12 x 16 inches
14.8 x 21 cm (A5)
21 x 29.7 cm (A4)
29.7 x 42 cm (A3)
But in reality, the sizes available are also related to the chosen format. In other words, rolls, sheets, pads, blocks… and even postcards are only available in specific dimensions.
Let me give you an example…
The 9 x 12-inch format is available in both watercolor blocks and pads. But the similar-sized A4 format is only available as pads! Go figure!
Watercolor sheet size
Another good example is watercolor paper sheets. The handmade paper-making process uses a traditional wooden frame mold. Other sheets are derived from a cylinder mold machine. The resulting sheet sizes depend on the size of the molds, which use imperial measurements, and each has its own sheet name. The best-known examples are:
Full sheet watercolor paper size (Imperial): 22 x 30 inches
Half sheet watercolor paper size (Half Imperial): 15 x 22 inches
Quarter sheet watercolor paper size (Quarter imperial): 11 x 15 inches
Other traditional imperial names exist, like "Emperor" or "Elephant." But don't be surprised if you get a blank look if you try asking for these at your local art supply store 🙂
Standard Watercolor Paper Sizes
Standardization of paper dimensions became important for commercial reasons. For example, the British Imperial system of paper dimensions was created in 1836. (Conventional measurements and units facilitated trade and commerce so that goods could be accurately measured and valued).
Even today, artists often refer to paper sheets by the standard imperial names.
But as you can see from the abovementioned sizes, not all watercolor paper sizes conform to one specific standardization! Paper sizes can vary from country to country. Sometimes traditional formats remain in use. Other times manufacturers seem to invent their own rules! (Just take a peek at Fabriano's watercolor paper, and you'll see what I mean).
An international standard was adopted around 1975, known as the ISO standard (International Standards Organization). This is the well-known "A" format that uses metric dimensions. Many manufacturers worldwide produce paper according to these sizes.
A4 is the most commonplace paper size in Europe! Everyone and their granny knows this is what you put in the printer!
But North Americans tend to use a different system of paper sizes and names than the rest of the world.
Hmmm…
In the US, the equivalent of an A4 sheet is the Letter size: 8,5 x 11 inches. But you won't find watercolor paper in this format either! The closest match is the popular 9×12-inch format.
Is your brain getting numb yet?
So why so many obscure and unusual sizes for watercolor paper?
One reason could be "proportion."
In fine arts like watercolor painting, aesthetics are important. So the proportions of the sheet (its height and width) add to the overall feeling of balance and harmony of a finished painting.
So this variation in paper size caters to the diverse needs and preferences of artists who work with watercolors. Artists can then choose from non-standard sizes to suit specific needs.
Sheet sizes originated from the traditional framing sizes of hand-held molds. These were made using dimensions that looked good for the finished piece of artwork. As a result, they were more aesthetically pleasing!
The standard "A" sizes like A4 and A3 are sometimes criticized by artists as less artistically pleasing. This is probably why we get a range of non-standard sheet dimensions like these:
7 x 10 inches (aspect ratio 10:7 – more elongated)
9 x 12 inches (aspect ratio 4:3)
10 x 14 inches (aspect ratio 7:5 – more elongated)
12 x 16 inches (aspect ratio 4:3)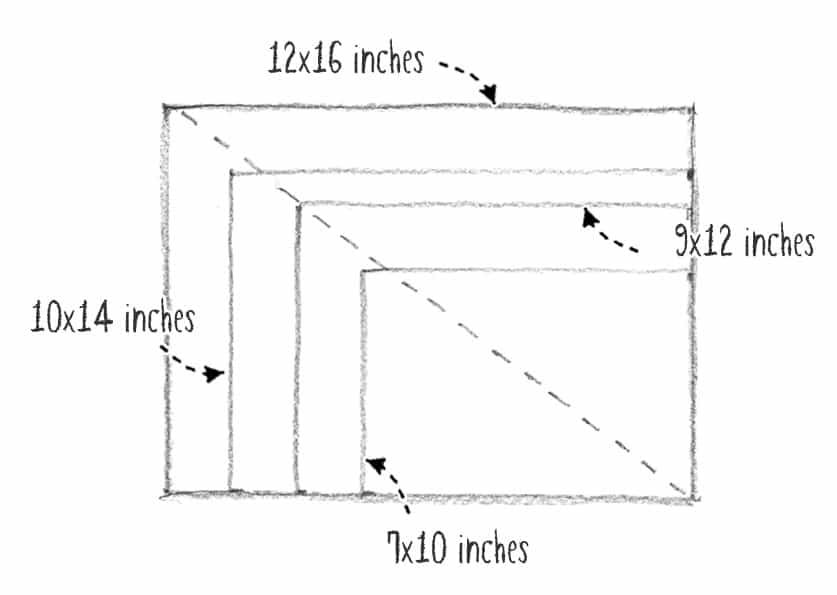 None of these lengths match any standard paper format, except perhaps the 9×12 inch sheet. This dimension corresponds to the "ARCH A" paper size.
The ARCH series of papers are preferred by architects in North America (hence the name) because they have a proportional aspect ratio of 4:3 (similar to most computer monitors).
If you compare the proportions of these imperial sized sheets to the A4, A3 formats, you'll see that the "A" formats are slightly longer and thinner. I admit, I prefer the 9×12 in option 🙂
Large Watercolor Paper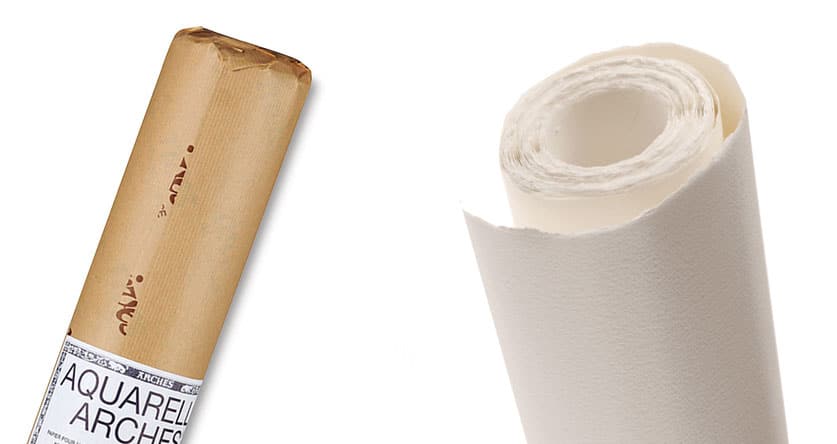 Some artists prefer to buy large sheets and cut them down for economic reasons. Others just like to paint on colossal paper formats!
So what is the largest size of watercolor paper?
Rolls of watercolor paper are the format that offers the biggest dimensions. Arches make rolls up to 51 inches wide and 10 yards long. Other typical roll sizes are 36 inches wide and 10 yds in length.
Another option for large paper is to buy it in packs of sheets. But if your objective is to save money, you must be careful and calculate correctly.
For example, you can buy 5 imperial-sized sheets of Arches watercolor paper for about $100. If you cut this down into quarter imperial sheets, you would end up with 20 pages ($5 per sheet – Amazon).
However, you can get a 10 x 14-inch watercolor block for under $50! That's more than half the price… ($2.5 per sheet – Amazon)
There's a significant advantage to choosing the most popular paper sizes available. Because of its popularity, this should help keep market prices low. I like the 9×12-inch format, which probably works out to be the cheapest. For example, at the time of writing, you can get a 9×12 inch pad of Arches cold press paper for 19 bucks! ($1,58 per sheet!)
Have fun!
Related reading: for a complete overview read my article about the "best paper for watercolors"