How to Paint Seven Swans A-Swimming (Step by Step)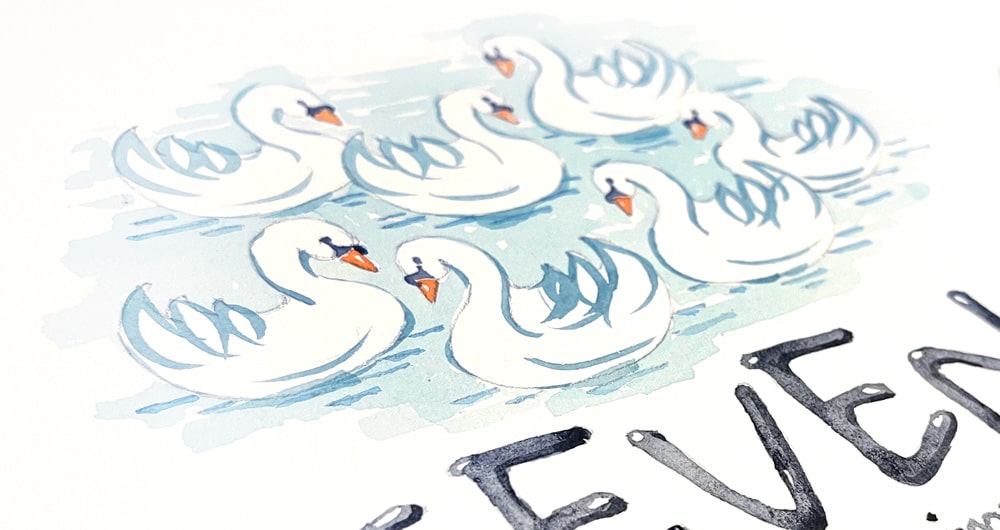 Welcome to day number 7 of the "12 days of Christmas" painting challenge.
Today's prompt, of course, is "seven swans a-swimming".
Swans are often associated with grace and beauty. In fact they look so fabulous that in the middle ages they became rather a status symbol! Owning a swan was an honor for the rich and powerful. Noblemen would exchange them as gifts. Even today, in the UK the King (and previously the Queen) has a right to claim swans for their own – a tradition passed down through the centuries…
But like all the other birds in this song, swans were also a prized food for feasts. It was a rare delicacy appreciated by royals and monarchs.
Thankfully, nowadays of course, swans are more appreciated for their good looks 🙂
If you happened upon this lesson in the middle, you might want to check out the beginning of this challenge here.
Painting 7 swans step by step in watercolor
The tricky thing about swans is that they are white! So painting white swans on white paper is a bit of a challenge.
To overcome this conundrum you'll see that I began this watercolor by painting around the swans, effectively filling in the background while leaving the white paper for the bird shapes untouched.
This is a technique sometimes referred to as negative painting. The subject (the swans) are the positive shapes, and the area around them is the negative shape. I painted the negative space around the swans first. This is an extremely basic example of this watercolor method.
You can download the worksheet including the pencil outline for this project below.
Try this painting for yourself ! Click the button below to download the worksheet for this painting.
And the list of paints i used for this lesson are as follows:
To receive daily email reminders for this painting challenge (starting with day #1), you can sign up below:
Finally, I've created a special category for these tutorials which you can view here. This will provide an overview of the whole challenge.
Step 1
After printing the sketch outline, transfer it to a sheet of watercolor paper. Try not to press too hard into the paper.
Step 2
Make a very diluted mixture of a blue-green color (I used phthalo blue and phthalo green). You might be surprised how much water you need to add to get a light-toned appearance. Try starting with a big puddle of clear water and adding pigment a little at a time.
Paint around the swan shapes. I used horizontal brush strokes to create irregular broken edges to this wash of color. You can also leave a few specks of white paper, to give an impression of light glinting off the water.
Paint the word "SEVEN" in gray, leaving a few highlights here and there.
Step 3
I wanted the bodies of the swans to remain white, but to add some texture I painted a few thin brush marks using a small round brush. The color is a darkened version of the water (I neutralized the paint mixture with a little Payne's gray).
Try to apply these using quick gestures and fluid brush strokes. The movement comes from the wrist more than the fingers. The results will look more fluid.
I also added an orange beak (leave a small white highlight if you fancy).
Step 4
Finish up with the black details on the swan's heads. In front of the eye, swans have a dark, triangular shaped patch of skin and a bump on top of their beaks.
Add some shadow lines to the word "SEVEN" and fill in the words "swans a- swimming".
Ta da!
Sit back and admire your work 🙂