Gifts for Watercolor Artists (What to Get an Artist for Christmas)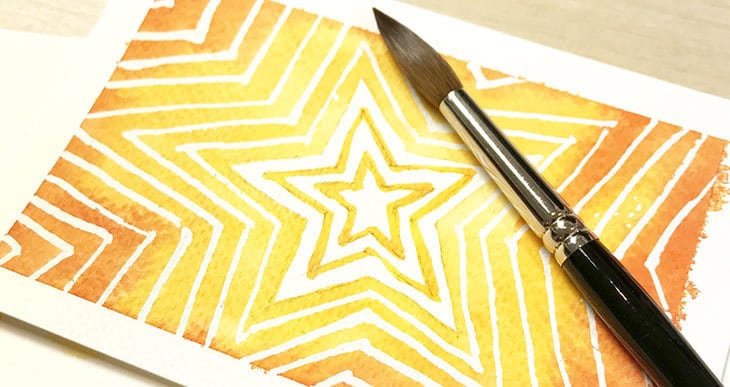 I've been scratching my head for several days !
Finding the ideal gifts for everyone is a real brain-teaser. It doesn't help that whenever you ask people what they would like for Christmas you get the answer "Err… Let me think about it" !
So for all of you struggling to find gift ideas for watercolor artists I wanted to share some suggestions with you. This list of presents includes the kind of things that don't immediately come to mind, but would make a delightful addition to any watercolor artist's kit.
And if you're the one being asked what you want, but you lack inspiration, maybe you'd like for some of these gifts so be crammed into your Christmas stocking…
Best Gifts for Watercolor Artists
So what gifts do you offer a watercolor artist who probably has everything they already need?
Apart from the obvious paints and brushes there are some very interesting art products worth considering.
A water-based medium like watercolors can be combined with all kinds of other drawing materials to produce "mixed-media" art. This can enrich the appearance of watercolor paintings by adding texture and graphic interest.
In addition, there are plenty of things that extend the pleasure of painting in watercolors, but somehow you just don't get around to buying.
And then there are some great accessories that just make an artist's life easier !
Here are some recommendations to cheer and enchant those artists among your friends and family.
Water Soluble Graphite
ArtGraf is a line of graphite and chalk products produced by Viarco in Portugal. The company originated as a pencil making factory back in 1907. They still make pencils and colored crayons, but they expanded their range to include some very original water soluble graphite products, and blocks of pressed pigment.
ArtGraf graphite products are available in various formats. Perhaps the most convenient is these handy tins(links to Amazon) which contain a dried "cake" of graphite, and which work in a very similar way to watercolor pans of dried paint. The tins make them very portable and easy to store.
To use it, you can just dab the surface with a wet brush to pick up graphite. This produces a rich dark color which you can paint with, and has the same appearance as graphite pencil when it dries. You can also mix it with water to dilute the graphite and produce lighter toned colors.
Overall water soluble graphite can be used in a similar way to watercolors but it produces wonderful granular textures and surface finishes that are unique to graphite.
If you want a slightly more stylish gift, then the soluble graphite is also available as a kit including a travel brush and a water soluble graphite stick…
The colored versions (like this range of earth colors on Amazon) come as a big solid cake, almost like huge crayons! These water soluble blocks are called "tailor shapes", named after the traditional tailor's pencil. You can draw with them directly on the paper and in a similar way to watercolor pencils, the colored pigment reactivates when you apply water. They dissolve easily for creating interesting washes, and you can paint directly from the blocks using a wet brush, or mix colors in a palette.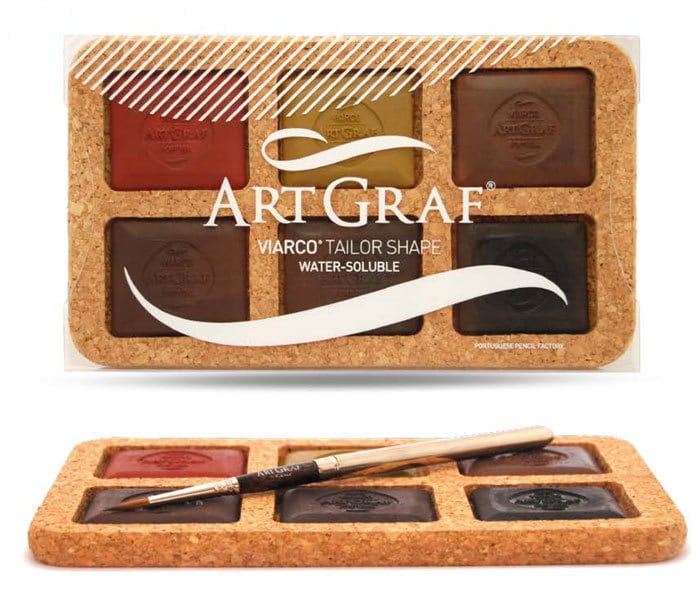 Also available as a set of primary red, yellow and blue.
You can check the full range of ArtGraf graphite solutions on their dedicated page on Amazon.
Etchr Mini Watercolor Palette
Etchr is an innovative company based in Australia who started out with the aim of creating the ultimate bag for carrying around art equipment and working "plein air". I remember seeing a lot of their new products announced on the crowdfunding site kickstarter when they were looking for funding to make their designs into reality.
Now they have a modern and attractive range of products for artists, and in particular for watercolor enthusiasts.
The "Etchr mini pallete" is a tiny round porcelain palette to carry and store colors. You simply fill it up the wells with your prefered tubes of color. The second part serves as a mixing palette. I like the fact that they include a storage tin, which helps keep your paints dust free and makes traveling easy. Porcelain is a great material for watercolor palettes because it won't stain like plastic does.
The palette is available in two versions – The 19 well mini palette should be more than enough for most artists, but if your mad about color, you can also find a huge 37 color well version ! (both versions available on Amazon)
The Perfect Watercolor Sketchbook
Etchr have also designed a range of sketchbooks for watercolor artists which they like to describe as "the perfect sketchbook". Indeed it's pretty difficult to find sketchbooks that contain good quality watercolor paper, so Etchr created this product to compensate for this lack.
Each sketchbook is made using artist grade 100% cotton; 300 gsm/ 140 lb watercolor paper. And you get a whopping 44 pages in each book.
Sounds like the perfect gift to me 🙂
The perfect sketchbook is sold as a bundle of 3 books. (Don't be surprised by the price – you're actually getting a total of 132 large sheets, which for artist grade watercolor paper is a reasonable price).
You can also buy single mixed-media sketchbooks which also use 100% cotton paper, but the weight and thickness is slightly lighter (230 gsm instead of 300 gsm). So this version is a bit more economical. And they also have a customizable cover 🙂
You can browse the full range of Etchr artist products on their dedicated page on Amazon.
Colored Crayons
Colored crayons ​are an excellent addition to watercolor art for making mixed-media creations.
Using crayons on top of watercolor is a great way to add texture and detail. I think colored pencils are one of the best complementary types of media to use in conjunction with watercolors.
The Faber Castell Polychromous range of crayons is one of the better known artist quality brands.
Faber Castell is a German company who have been making pencils since 19th century. The polychromous range are soft and easy to lay down, and they use acid-free pigments which have an excellent lightfassness rating (so you don't have to worry about them fading when used in combination with artist quality watercolors).
You don't need a huge amount of colors. You'll find that successive colored pencil marks will show through, so you can combine colored pencils to "mix" colors on the page.
This 24 color Polychromous set is a good sized compromise (links to Amazon).
Drycolor Watercolor Sheets
If you're looking for a fun and original way to paint with watercolors then these watercolor sheets are a fantastic idea !
The company Nicholson's Peerless Watercolors have been crafting these dry water soluble color sheets since 1885. Simply re-wet the sheets with a brush to pick up colored pigments and paint in the same way you would with pan paints. You can mix the paints in a separate palette or use them directly off the sheets for intense color washes.
These watercolor sheets combine ease of use, portability and come in a vibrant range of colors.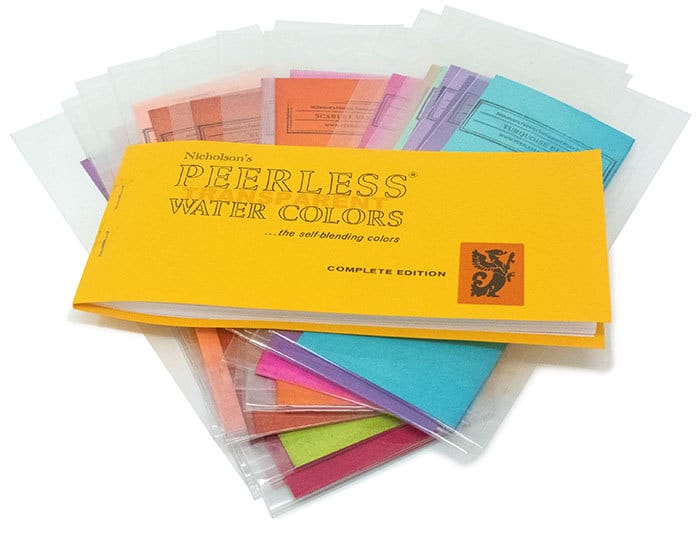 Keep those Pencils Sharp !
Before every watercolor painting comes a pencil sketch…
And you need to keep those pencils sharp 🙂
If you'd like an upmarket and very original way of doing that, look no further than the "hovel".
This is another product that was launched with the backing of crowdfunding. It was created by a team of young designers now known as the Makers Cabinet .
The hovel is described as a "pencil plane". It's function is similar to a woodworking plane which shaves slivers of wood thanks to a sharp blade. This provides a unique way to sharpen and shape the point of pencils. Rather than twisting them ​like a traditional sharpener, the hovel smoothly shaves the wood and graphite to a point.
You can find the Hovel at Jackson's art store. (By the way if you use this link, you'll get 10% off your first ever order).
​As an option, the Hovel can be combined with a crafted wooden base, available in walnut or beech wood finishes. This acts as a chamber for collecting shavings
Etchr Field Case
Now that you've got all that new stuff you're going to need somewhere to keep it…
​The Field Case by Etchr is one of their most compact but versatile carry cases (link goes to Amazon). It's a weather-proof and durable system for carrying and storing art materials. It's small size and versatility make it the ideal ​​option to follow you everywhere so you're always ready to sketch and paint !
​Finding Watercolor Gift Ideas
Finding interesting gift ideas can be a struggle !
After all, you want people to enjoy the ​presents you offer. Most watercolor artists already have the basics for painting, which makes it tricky to find original options.
I think these gift ideas ​include some ​novel and delightful art materials that any watercolor artist will enjoy, and add a little extra joy to the creative process !
Oh… And good luck finding gifts for the rest of your family and friends !!