11 Pipers Piping in Watercolor (Step by Step Lesson)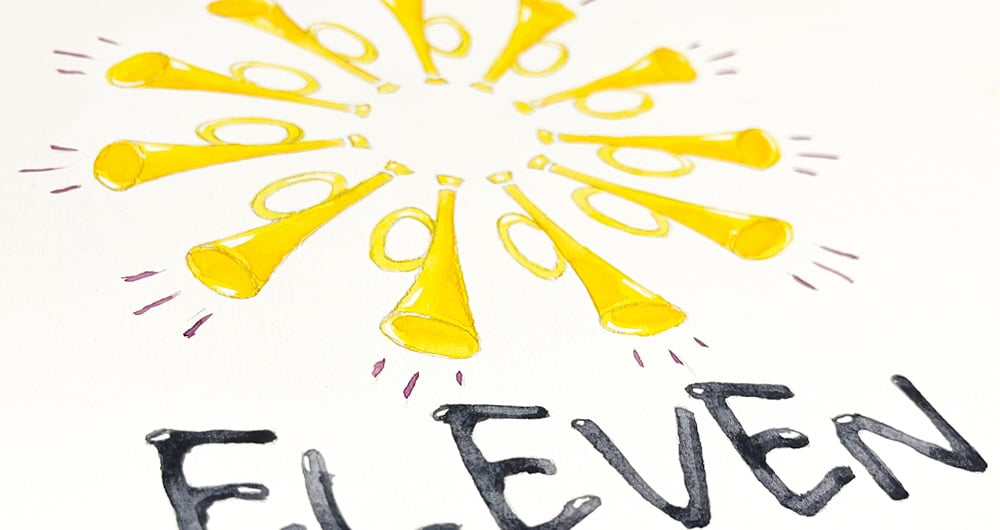 Nearly there! You have reached day number 11 in the painting series for my "12 days of Christmas" challenge.
Can you imagine eleven pipers piping? Together with the drummers, the dancers and the leaping lords, the festivities must have been great fun!
I've heard it suggested that the pipers in this verse could be yet another bird such as a sandpiper or lapwing. Sandpipers have a distinctive "piper-like" call, and a lapwing's cry sounds a bit like a whistle. Both these birds were available to cooks in the middle ages and were said to have a delicate taste.
Or maybe the original author just wanted us to have a huge Christmas celebration!?
What do you think?
If you have stumbled across this series in the middle, you might want to check out the beginning of this challenge here.
11 pipers piping – 4 step painting process
A ended up drawing a very centralized and symmetrical composition for this project.
You can download the worksheet for following along with this tutorial below:
Try this painting for yourself ! Click the button below to download the worksheet for this painting.
And the complete list of paints I used were as follows:
To receive daily email reminders for this painting challenge (starting with day #1), you can sign up below:
You'll find a special category for all these tutorials which you can view here. This will provide an overview of the whole challenge.
Step 1
Print out and transfer the outline of the pipe composition (Ok… I know they look more like trumpets!). Use watercolor paper for best results.
Step 2
I started by painting the "pipe" shapes with a uniform wash of yellow. Leave a few specks of white paper showing through here and there. These highlights help create an impression of shininess.
Then fill in the big word "ELEVEN" underneath with a gray color.
Step 3
Leave this layer to dry before you continue.
The next layer adds a more three-dimensional look. I used a graduated wash of orange along one side of the trumpets, and inside the bell shaped opening. A graduated wash produces an appearance that changes in tone from dark to light.
To do this, apply a small brush stroke of orange, then rinse and blot your brush on a cloth. Now you can use the damp end of the brush to pull out the color. The orange pigment will diffuse into the shape of clear water that you pull out, creating a gradual change in color strength.
Step 4
The last step is to add a few details. Using a mixture of purple I added a few lines radiating outward from the trumpets as a graphical impression of music being played.
Finish the painting by adding the last bit of text and a few shadow lines on the big "ELEVEN" word.
Tomorrow you'll paint the final project in this series!
Until then, have fun 🙂