Members Only Watercolor Koi Fish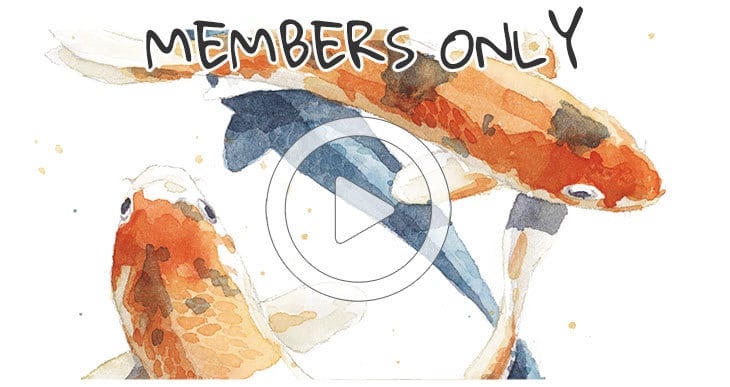 Description:
In this special extended, full-length tutorial I'm going to show you how to paint koi fish in watercolor by building up transparent layers of paint using a glazing technique.
One of the amazing characteristics of watercolor is its transparency. When you paint transparent washes of color on top of each other this produces beautiful multi-layered effects that are unique to watercolors.
Painting in this way is a technique known as glazing.
The delicate patterns on these fish are perfect for painting in watercolor using a glazing technique.
(Please note: this mini-course is not part of the Masterclass).
Special Edition Watercolor Koi Lesson

No drawing skills needed !
You get EXCLUSIVE benefits including:

- Extended, full length, narrated painting video
This is the complete, full length video. For artists who like to see every brush stroke and watch the process from start to finish. These in-depth videos are not available anywhere else !
- Speed painting demo
An exclusive speed painting demo. These are extremely useful for providing a fast overview of the painting from beginning to end.
- Ad-FREE !
Completely advertisement free videos and lessons.
- Special bonus lessons !
Additional lessons provide a more in depth look at things like color mixing, correct techniques, brush handling, etc.
- Printable PDF version of the lesson
A lot of my readers have asked for printable PDF version of my lessons. Course members get a handy printable version of each lesson including text, images and illustrations, and NO ads.
- Printable PDF worksheets and images
This includes traceable sketch drawings and reference photos so you have all you need to complete the painting !
- Copy of the Original Painting
You'll get a high-resolution copy of my original painting.
- Supplies list
Many people ask me what tools I use. For each lesson I've complied a list of ALL supplies needed to complete the painting project.
- Ask me questions
Ask questions directly inside the lessons and I'll answer them personally!
- Free glossary of watercolor terms

- My Complete guide to watercolor supplies
- Lesson: How to transfer drawings to watercolor paper

- 25% off my Masterclass
I offer all members of my lessons a special 25% discount for my foundation course in watercolors


MEMBERS ONLY SPECIAL OFFER !
Get 25% Off my Watercolor Masterclass for Beginners. Just use the special discount code after purchase.